The Broom & I did not get to head out too early cause of the ongoing server issues. To do a post I did earlier I had to flip flop between 2 different servers. Oh what fun I had! (that was sarcasm) So me & the Broom finally made it to a few places & poofed in to see a few old friends in Blogland.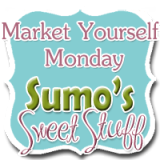 (now I can't center anything. how wonderful is that?)
everything is wonky right now in my little corner of the world :(
Seriously getting ticked off at the cable company & the internet. Broom & I will out & about in Blogland again tomorrow unless I end up using my Broom on my computer. Til then....ta ta & "Poof", I'm outta here.
Don't forget to leave a comment. I love hearing from cool folks like yourself.
Become a follower of Wiccan Make Some Too, I love the company!