Hey Blogland! Me & the Broom have been fighting since our last outing & he has been in the basement sulking until I decided to take him out for a bit today. The winds were kicking pretty hard & he did not need to swoop & dive on his own. It was a shaky flight just trying to keep from being blown hither & yon & into the side of a freakin' mountain. Will I ever adjust to this? We managed to drop in on a few of our friends before we had to call it a day & turn around towards home.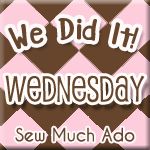 Don't forget to leave a comment. I love hearing from wickedly awesome folks like yourself.
Become a follower of Wiccan Make Some Too, I love the company!