Hey Blogland! Since I have a busy weekend ahead of me, I gave into my Broom's begging to go for a fly over Blogland today & visit with some friends. We had a great time. He actually let me sleep until the alarm went off! Hmmmm, or it could be cause that was right about when the rain stopped too!
We went back in time again today too!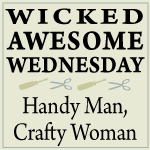 border="0"/>
Don't forget to leave a comment. I love hearing from wickedly awesome folk like yourself!
Become a follower of Wiccan Make Some Too. Hey, all the cool kids are doing it!