What up Blogland?!?!?! Wickedly Crafty Saturdays are returning. Coming to you from a totally different state. (well...still the state of confusion but you all know what I mean) So "poof" on over here bright & early (or dark & early since its starting 4 minutes after the witching hour of midnight) Show us your stuff & lets get Wickedly Crafty Saturdays back on the map!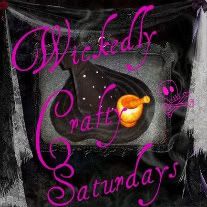 Don't forget to leave a comment. I love hearing from wickedly
awesome people like yourself. Become a follower of Wiccan Make
Some Too & be part of an amazing group of folks. Hey, all the
"cool" kids are doing it!