Hey Blogland! Me & the Broom headed out today on my day off to visit with some friends for a bit. I have nothing solid to do until late this afternoon when I meet with the AVON rep to get started selling AVON up here in PA. I have been selling AVON off & on since I was 16yrs old & love the products. I was sellin in Florida before the move & am excited to be able to restock some of my favorite products. So, feeling generous I decided to take my Broom & go a visiting!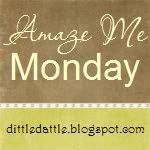 When you visit these places please do not forget to check out the other entries. You can make so many friends & find crafts & recipes that will just knock your wicked green & black striped socks off!
Don't forget to leave a comment. I love hearing from wickedly
awesome people like yourself. Become a follower of
Wiccan Make Some Too
& be part of an amazing group of folks. Hey, all the
"cool" kids are doing it!