The Sorority is accepting members. Check out the info on it at
Some Days are Diamonds
. Karen got this all started & it really looks pretty darned exciting. They had a Rush back in June but that has ended. Karen has posted that there will be another Rush either coming up soon or next June sometime. Go on over & scope it out & it you like...join the Sisters of the Bloggerette Sorority!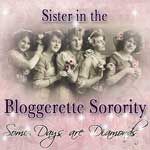 Won't you join us?
I am thankful for Sisterhood
Don't forget to leave a comment. I love hearing from cool folks like yourself.
Become a follower of Wiccan Make Some Too, I love the company!