Wow lots of Holiday Link Parties going on & me without a thing to wear! Eek. I knew I should have bought those cute skirts at the thrift store & cut them down to fit. Gotta dig through the closet now & hope I find something maybe shoved all the way in the back. ( you know what I am talking about girls, right?
Really have to get ready. Check em out & get ready to party!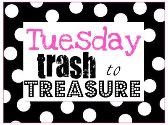 Leave me a comment to let me know if you joined a link party so I can check out your handy wor
k!
I am thankful for link parties.